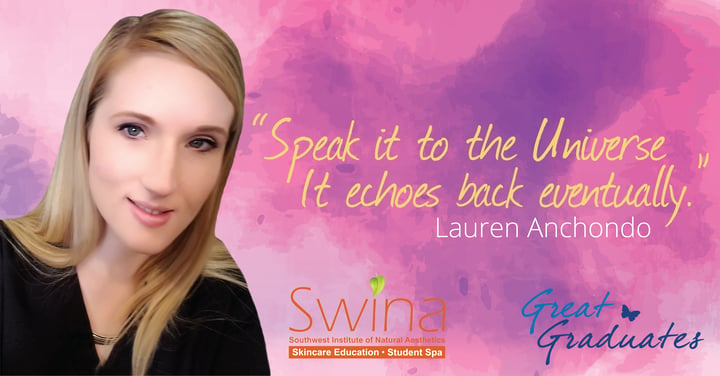 When Lauren Anchondo was younger she would see family, friends, and other people battle with their skin and all she wanted to do was help them. She researched many of Arizona's aesthetics schools in Phoenix, and out of all the schools Lauren interviewed, Swina was the most organized and professional. "It was about the education I wanted to receive over everything else. Swina has the tools to make successful aestheticians."

When Lauren first enrolled in the 780-hour Advanced Skincare Practitioner & Cosmetic Laser Technician
program, she didn't know how she was going to make it through the program without taking time off since she was pregnant.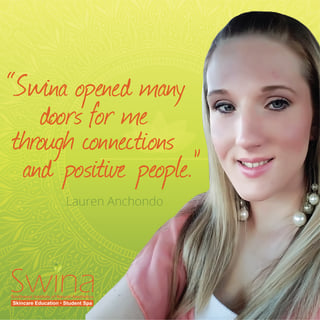 First day of class, her instructor, Lisa, had everyone introduce themselves. She realized that she wasn't alone in her journey, and that her fellow classmates were all going through their own personal life challenges. Two students had been battling breast cancer, and others were just trying to make it by in life.
"I took a chance to join the program, [and] when I did, I ended up having amazing support throughout my career."
Lauren started her aesthetics career at Massage Envy and a local tanning salon. She worked two part-time jobs for about 6 months, then went back to Swina to receive her Cosmetic Laser Technician certification. This program includes 40 hours of Laser Didactic, 48 hours of Observation, and 92 hours of practice in Laser Hair Removal, Photofacial Rejuvenation, Pixel Skin Resurfacing, and Skin Tightening procedures. "I started the laser program with Dr. Hooker and Sonja. Amazing instructors I would have to say." Throughout the program, her passion for skincare grew and the knowledge she acquired from her experience inspired her to learn more. "Swina gave me the tools to understand more advanced skincare practices. Every client is different, which makes every treatment a little different from the next, it's always exciting to help people overcome their skincare challenges."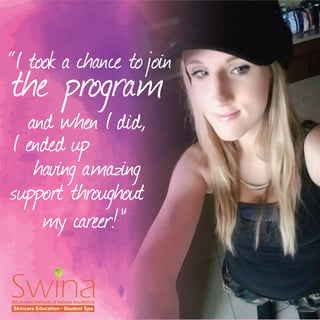 Soon after, Lauren landed a position at Derma Health with the help of our student coordinator."Swina opened many doors for me through connections and positive people." She worked as an Aesthetician/Front Desk Coordinator at Derma Health Skin & Laser in Ahwatukee, Arizona, while continuing to expand her education. Derma Health Skin & Laser is a medical spa whose goal is to help patients become the best they can be and has provided many of our graduates with fantastic jobs. After completing the laser program, Lauren also became a Laser Technician at the spa.
When asked what advice she has for students who hope to follow her footsteps, she says,
"Don't give up! It is hard to push through your first year, but [it's] so worth it! Just remember every connection counts!"
Follow Derma Health Skin & Laser on social media:
Instagram (@derma.health)
Twitter (@dermahealth)