Hello, Beauties!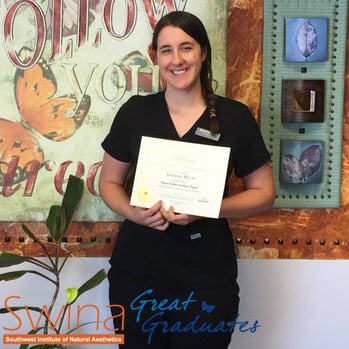 Here at Southwest Institute of Natural Aesthetics (SWINA), we understand that starting a career can be a lengthy process; that is why we are dedicated to teaching and training our students so that they are well-prepared for their career and have the best opportunities upon graduation. We are fortunate enough to have great relations with some amazing businesses who have not only hired our graduates, but have gone the extra mile by speaking directly to them about the industry, even before they graduate. Here are just a few of the many amazing employers that are hiring our Great Graduates!
Located in the Scottsdale Promenade, Sugar Sugar, a sugaring hair removal spa, has hired many of our past students, including Lacey Storm and Tarah Hunter, two graduates who have been featured in one of our Great Graduate blogs. Not only does Sugar Sugar have a hiring partnership with SWINA, but they also come in and participate in our Mock Interview Class, where businesses are invited to come and interview our students. Mock Interview Days prepare our students for real-world interviews and also help them start their career! One great example of a student being hired during one of these days, comes from an experience that Sugar Sugar had with one of our graduates, Lindsay Helm. When asked if any students stood out to them when they visited SWINA, Wil Johner, owner, said "Lindsay, whom we met at SWINA's Mock Interview exercise in February has been with us for two months! She was thrilled to take advantage of the mock interview. After meeting her, we couldn't say no. She is amazing. She currently works front of house for us for the time being, but the day she gets her license she will be on the floor practicing aesthetics for us. That process set up by Alexis [SWINA's Career Services Director], really provided students a wonderful 'foot in the door'." Sugar Sugar is kind enough to come in and teach our aesthetic students a sugaring class called Sugar 101!
Thanks, Sugar Sugar!
Not only does European Wax Center love hiring our SWINA graduates, but we have one Great Graduate, Brianna Lindsey, who is a franchisee of a Red Mountain European Wax Center, as well! With 760 locations in the nation and 19 locations in the Phoenix area, this business has provided many opportunities to our students. We value their company statement:
"We've yearned to be beautiful ever since we saw our own reflection, yet beauty is as elusive as it is desirable. While many brands have been telling you the way to be beautiful is to conceal who you are, European Wax Center is saying something that may startle you. We're saying no."
What they have to say is that all of us deserve beautiful, gorgeous skin, not by concealing who we are, but by having the courage and confidence to reveal our natural, beautiful skin!" We are always very excited when a SWINA graduate gets hired on with this amazing company!
---
Derma Health, Skin & Laser has provided many of our graduates with fantastic jobs, and we are very excited to continue sending our SWINA graduates their way! With 5 locations throughout metropolitan Phoenix, Derma Health is a medical spa whose goal is to help patients become the best they can be, inside and out. Like SWINA, this company is dedicated to holistic skin care, as they treat the whole person and not just a symptom or issue. This understanding and quality concern for each and every individual patient is what keeps our two businesses working so closely together. Our school puts emphasis on the importance of natural skin care, quality ingredients, and professionally trained students, just as Derma Health offers superior, all-natural products and top-notch professional physicians and staff. They offer complimentary consultations where they offer a skin analysis. This is a perfect for the SWINA graduate! They offer their clients a variety of services (not limited to):
Laser
Facials
Peels
BOTOX
Microneedling
Laser
Facials
Peels
BOTOX
Microneedling
Thanks, Derma Health!
Medical spas offer our students an aesthetics career in an environment that is different than the traditional beauty spa.
---
"When we get a student from SWINA, we know that they are well prepared and ready for the job. SWINA's curriculum is amazing, and definitely prepares their students for a job in the industry," says Cary Underwood, AZ Regional Recruiter for Massage Envy. With over 39 locations, they have hired a remarkable amount of our graduates. They have also participated in many of our Mock Interview Days, and when asked about their experience with those classes they explained, "We love the Mock Interviews. It allows us, as an employer, to place everything down in front of the students in a nice, relaxed atmosphere. They get to practice sitting in front of employers and receiving feedback on what they did well and what they can improve on! That's a huge opportunity." During the business portion of our program, this company has been gracious enough to come in and speak directly to our students. They give tips to our students on what to do when looking for a career also provide them with the knowledge of what type of expectations they can expect in the skin care industry.
Thank you to Massage Envy for continually hiring our students throughout the years!
---
We would love to give another huge shout out to one of our Great Graduates, Layne Nyberg! Layne has strategically set her business, Sugar Me Wax, up for success by offering full-body sugaring and waxing for men and women, as well as offering a variety of facials, chemical peels, derma-planning, derma-filing and more. Sugar Me was started in February of 2015 and has continually hired SWINA graduates onto their passionate team. It was voted the Best New Waxing Company in Phoenix for 2015 and is a prime example of SWINA students accomplishing their dreams!

"Our clients are so varied! We have all kinds of people that come to see us: men, women, younger, older! We help everyone! They keep coming back because we provide
pristine customer service, strict sanitation guidelines,
and are exceptionally skilled at what we do."
---
To learn more about these fabulous companies, please visit their websites:
Sugar Sugar

Learn more about the natural aesthetics programs and services from SWINA students.