Laurie Hatch graduated from 600-hour Natural Aesthetics Practitioner Program in 2016. Currently, she works as a Master Aesthetician at Integrated Massage & Wellness Spa in Bountiful, Utah. This is her Great Graduates success story.
After visiting every aesthetics school within 30 miles of her house, finally came across Swina. She said, "The minute I walked into Swina, it felt like a spa. There was a very relaxed, zen feeling." What intrigued her even more was the Arizona beauty school's holistic integrative approach on skin care.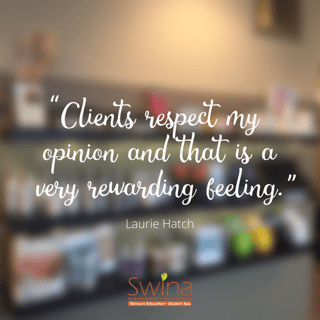 Her passion for aesthetics developed with every chapter of Milady Standard Fundamental Esthetics, one of Swina's core learning tools.
"I found that I loved learning that it was possible to have the skin you've always wanted and how to achieve it… I've seen the changes in my own skin and my clients. It is so satisfying to help others."
Laurie said that Swina readily prepared her for the State Board exam, showed her the importance of keeping her work area clean, and inspired confidence in herself. When asked how her experience changed her perspective of self and/or altered her course for the future, Laurie replied,
"It started me on a road to understand what exact ingredients are best for different skincare concerns and finding products that meet those needs."
After she graduated, she moved to Bountiful, Utah to pursue a Master's program for aestheticians. When she finished school, she found it unexpectedly easy to land her dream job as a Master Aesthetician at Integrated Massage & Wellness Spa. On occasion, she handles some administrative tasks, which "has been a huge bonus for me to see how that side of the business is run." The rest of the time, Laurie offers facials, chemical peels, microcurrent treatments, eye treatments, collagen induction therapy, brow and lash tinting, lash perming, teeth whitening, sunless tanning, and waxing treatments for women and men.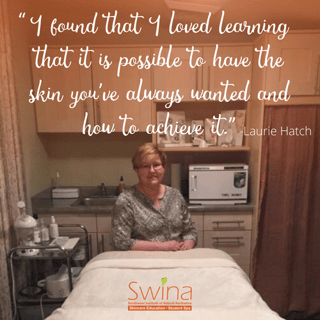 Integrated Massage & Wellness Spa is owned by Mindy Klubnikin, who founded the spa five years ago and has been working in the aesthetics and wellness industry for over 20 years. Laurie expressed genuine gratitude and love for her employer. "I just feel grateful and honored to be chosen to work with her and my fellow employees. My employer is constantly encouraging me to grow and learn and is one of my favorite clients."

The spa embraces holistic values and many clients are referred by their "sister company downstairs that has chiropractors and a medical doctor. We get a lot of their clients that come to us for therapeutic massage and my clientele is building from that group of people." Her clients seek and experience real results with their overall health and skincare. When Laurie applies her Swina knowledge she says, "Clients respect my opinion, and that is a very rewarding feeling."
Laurie believes "that every woman and man should find the beauty in the age they're in. I believe in natural beauty, and having the best skin you can possibly have without plastic surgery or other invasive procedures."
Follow Integrated Massage & Wellness Spa on Facebook and Instagram (@integratedmassage_spa).