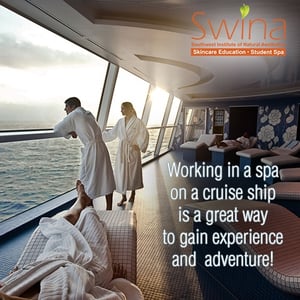 Have you ever considered taking your aesthetics skills on the road? Or… rather, on the sea? While many skin care practitioners work in spas, med spas, hotels, or salons, there is a booming cruise ship industry that is always hiring skilled aestheticians for their cruise ship spa. According to Statistic Brain1, the annual revenue in the US for this industry is over $37 billion dollars, and since 1980, the average annual growth rate is around 7%; Cruise Market Watch2 concurs with their worldwide annual rate increase of 6.5%. Every major cruise ship offers a spa with various services, including facials, body wraps, and massages, and more, yet this type of work location is often overlooked by those in the cosmetology business. If you are in the industry or are studying to be, and you're looking for an opportunity outside the box, this might be perfect for you! See the world and experience cultures, while helping people reconnect with their own natural beauty! However, before you pack your case of Rhonda Allison products and your massage oils, it would be wise to consider all of the factors, to see if the 'ship life' in a cruise ship spa is for you.
Pros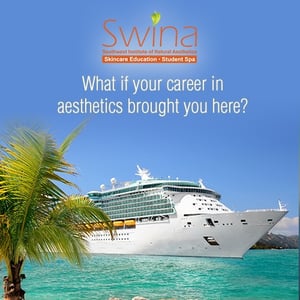 — The money. You have no monthly rent, electricity, food, car payment/insurance, or gasoline bills to pay. All your earnings go into your bank account with opportunity to save most of your earnings. Some cruise lines even include health insurance in your earnings package.
— The Travel. Cruises are all about the destination. Your first year, you are likely to be placed where your employer tells you, however as you progress through the industry, you gain more control on where you go.
— The Friendships. Imagine making friends from all over the world! The passengers, as well as the employees, will be from all different countries and backgrounds, making for a most interesting journey!
— The Opportunities. Networking with so many different kinds of people from all over the globe, usually means open doors to new projects and places. Depending on your personality and life goals, your options may be endless! Don't forget that there are ports in which you can talk to locals in different countries. You will learn your favorite places and how to go about pursing further dreams.
— The Off-Season. Most cruising employee contracts are for at least nine months a years, give or take. That means the other months you can spend any way you wish!
Cons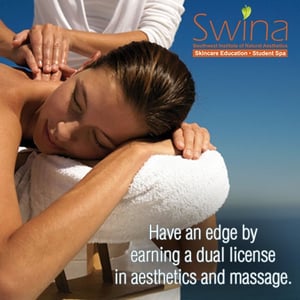 — The Room & Board. This is not for the claustrophobic. Living quarters are very small and shared with another person, and the food can get quite repetitive. If you have strict dietary restrictions, you may have a tough time. You can expect to be limited on your luggage size: often you are only allowed one medium suitcase for the entire length of your contract (9+ months).
— The Pay. While the money tends to be very good, many times it is commission-based. So this will depend on your drive and your skill, as most of your money will be based on tips.
— The Loneliness. For some, being away from what is familiar can become very difficult. It can be difficult to leave friends, family, pets, or your home behind if you have never done it before.
— The Hours. Many times you will be expected to put in a twelve-fifteen hour day and there are NO days off. This can mean a blend of stocking, cleaning, and customer service relations, in addition to your aesthetic position.
— The Communication. Wi-fi may be spotty and your cell phone may not work. You should also consider which company you end up working for and to where you will be traveling, because you may find that the majority of your coworkers speak a different language or languages, not native to your own.
How To Apply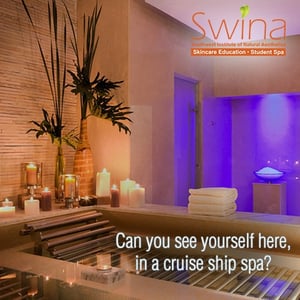 — Do your research, emailing, and calling. You will probably call 10-20 companies, getting the runaround. Be persistent.
— Be prepared for an interview, possibly via Skype or Google Hangout. Know your customer service and dress appropriately.
— Have your resume and all your certifications and other credentials ready, on your computer, for uploading with your application.
— Check out websites that post job listings like CruiseShipJob.com TheOnboardSpa.com.
— ALWAYS double check a company's credentials through the BBB or multiple online review sites. Ask around; be smart. If it sounds too good to be true, it probably is.
It is a great idea to combine your skin care skills with another modality like massage. Southwest Institute of Natural Aesthetics offers a Natural Aesthetics and Massage Practitioner diploma that will give you an edge by a dual licensure. If you already have your aesthetician's license, you could add a specialty from our sister school, Southwest Institute of Healing Arts, like Aromatherapy, Energy Therapy (Reiki or Cranial Unwinding), Life Coaching, or Yoga Teacher Training. If you love to travel and meet new people, or if you are just in need of a change, enroll in a program and be fierce in your cruise ship pursuit!
1 http://www.statisticbrain.com/cruise-ship-industry-statistics/
2 http://www.cruisemarketwatch.com/growth/