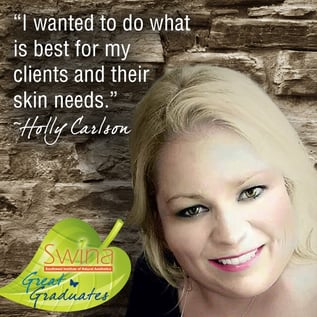 After working in the Social Services industry for 10 years as a case manager, Holly Carlson realized that she was growing tired of her career and decided that it was time to begin a new adventure in her life. "I thought about the things I loved, and skincare was at the top of my list. I researched several schools and found that SWINA had the overall best program with the highest graduate success rate."
Holly soon enrolled in Southwest Institute of Natural Aesthetics (SWINA) and graduated from our 780-hour Advanced Skincare Practitioner & Cosmetic Laser Technician. After graduation, Holly began her aesthetics career by working as an aesthetician for a large corporation. Later on she realized that she was limited in what she could provide for her clients through the company she was working for, and explained, "I had limits on what I could do for my clients. I decided that I wanted to do what is best for my clients and their skin needs, and wanted to use the best products possible. So I went into business for myself, and I am loving it."
In July of 2015, Holly started her own business called Face It Skincare in Tempe, Arizona. Face It Skincare is located inside Momentum Salon, where Holly is the only aesthetician who gets to work alongside other professionals who offer nail and hair services. Although Holly describes Face It as primarily corrective skincare, she offers her clients a variety of treatments such as facials, waxing, dermaplaning, dermafiling, collagen induction therapy (microneedling), teen acne treatments, high frequency and LED light therapy treatments, as well as eyebrow and eyelash tinting. Face It Skincare specializes in the overall health of their clients' skin and offers luxury services at an affordable price.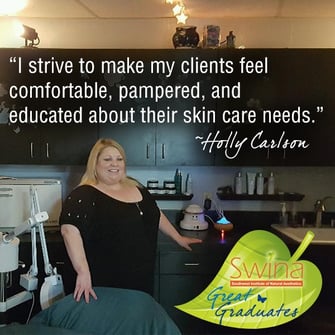 "I strive to make my clients feel comfortable, pampered, and educated about their skin care needs. Skincare and skin issues can be difficult to talk about, but my clients have opened up to me about their issues, and I am very grateful to have the opportunity to assist them in feeling their best."
When asked about experiences with her clients that stood out to her, Holly was ecstatic to share the following review on Google by one of her clients: "I came to see Holly at Face It Skincare because I was having trouble with my facial acne. I had changed my diet and eating habits completely about 3 weeks prior and still was not seeing any changes in the condition of my skin. I brought the products I was currently using and Holly took the time to sit down with me, review each product, and explained to me what each one was doing to my skin on a biological level. Essentially, I was using products that were only helping my acne to progressively get worse. We both agreed that I would throw those products out, and she sent me home with lots of awesome pretty smelling and feeling samples to try out. I returned for a facial and oh man...AMAZING! I have never looked or felt so great EVER. Holly educated me in order to choose the correct products in the future, and restored my self-confidence in 2 visits. She's my skincare angel! Thank you Holly!"
"I love what I do." Holly exclaims. "I get to help people feel their best and educate my clients on the importance of skin care."
Following her graduation from SWINA, Holly's life has changed drastically as she continues to expand her business and clientele. "I am thankful that I attended SWINA, because now I have the education and tools to be successful in a field I truly love. I learned so much while there and the science of skin care that is taught at SWINA is top notch. The instructors do an amazing job teaching about chemicals that are in skin care products, such as how preservatives can be quite harmful to our skin and body as a whole."
After finding her niche in the skincare industry, Holly is happily succeeding in her business and continues to stay passionate about her career and helping educate others.
To stay in touch with Holly please visit her website www.faceitskincareaz.com, and like her page on Facebook!