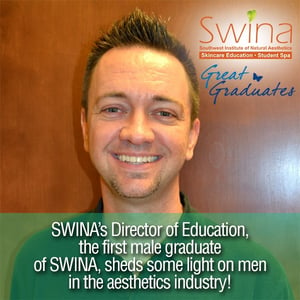 While none of us blink an eye when we see a barber, some of us may do a double take if we saw a guy applying an avocado-colored mask to another guy's face. However, according to multiple sites across the internet1, the men's grooming market is said to hit an estimated $21 billion in revenue. So who says, "Men don't care about looks?" More than ever, men are getting into hair and face products, caring about the condition and health of their skin, and they care about fragrances of cologne and body wash. There's hope still, ladies!
It's Simple!
The male's role in aesthetics simply needs to be redefined, and the industry products are leading the way. It's not just women anymore who are concerned with acne, skin discoloration, fine lines, and wrinkles, and for these men, gone are the days of taking a shower and throwing on last week's jeans and a T-shirt. It is also time to acknowledge that more men than ever are enrolling in cosmetology school to learn 'all things skin' and ultimately, that caring is natural!2
To shed some light, I reached out to Michael Shuey, the now, Director of Education at Southwest Institute of Natural Aesthetics. He was the first man to ever graduate from SWINA, and he was in the first graduating class of 2006! At the time, he was already a massage therapist, and he had a friend who was one of the only male aestheticians in the Valley. He saw that there was a need for skin care specialists for men, as his friend was booked a month out. He began his quest for a cosmetology school, yet found that they did not quite align with what his needs were. Being a SWIHA graduate, when he heard they were opening a natural aesthetics school, he knew it was going to be the right place for him to learn about the industry. He said, "I love that I was in the first class and have seen the program change and grow, and I can relate to the students, male and female, who are taking the program." Post-graduation, he opened a very successful practice, Unravel Body Therapy, and has been in business for over fourteen years! He has been teaching at SWINA since he graduated, became a faculty member in 2012, and as previously stated, now sits in the director's chair. We are thrilled to have him!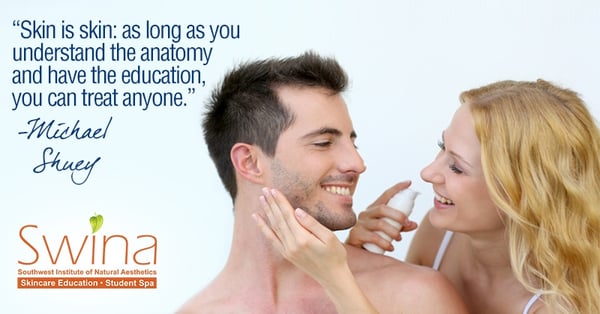 So Here's the Deal, Guys!
I asked Michael what he thought one of the biggest misconceptions was of men in the aesthetics world. He commented the stereotype that 'men don't understand skin, especially women's skin'. Michael has this to say about it:
"It is true that men and women suffer from different issues, but skin is skin, and as long as you understand the anatomy and have the education, you can treat anyone and any skin type."
The annual revenue of male grooming products is already here. Just wait until they realize that there are MEN-SPAs where it's "okay" to care about how they look. There has never been a better time for a man to get into the industry.
1https://www.google.com/search?q=men%27s+grooming+to+bring+21+billion+in+2016&ie=utf-8&oe=utf-8
2http://www.beautyschoolsdirectory.com/blog/news/more-men-than-ever-enrolling-in-cosmetology/