Since graduating from Southwest Institute of Natural Aesthetics' Advanced Skincare and Cosmetic Laser Program in 2014, Ann has begun a new adventure in her life with her own home day spa, Mindful Skin Spa, which is located in Chandler, Arizona. Ann practices what her friends call "holistic aesthetics", meaning she uses all-natural, organic, and fragrance-free products, and educates her clients about the health aspects behind their skin.
"My mission is about educating my clients about skin health, revolving around the saying, 'You are what you eat'. Whatever you put into your body gets dumped onto your skin. I use natural products because they all eventually make their way back to your liver, and using natural products reduces the chances of doing any damage."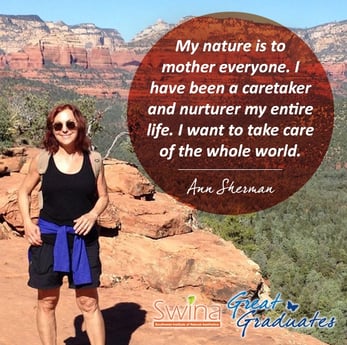 Much of this holistic approach comes from Ann's medical background. Ann brings about fifteen years of medical experience to the table after graduating from nursing school in Williamsport, Pennsylvania in the eighties. Also certified in Oncology Aesthetics, Ann is able to provide affordable, relaxing, and rejuvenating services to Oncology clients suffering from changes to the skin due to cancer including dryness, irritation, and redness of the skin caused by cancer treatments such as chemotherapy. "Working in Oncology is an area that most Aestheticians are not familiar with. It's a holistic approach using natural products and essential oils to enhance the health and well-being of patients and clients."

When asked what client transformations stood out to her she replied, "My first Oncology patient came in to see me with dull skin with a gray hue. After her exfoliating and hydrating facial she had a healthy glow and pink cheeks; She looked in the mirror, cried, and said, 'I look like my old self again'. Specializing in Oncology Aesthetics has been a wonderful focus; It's extremely gratifying to see results and hear such positive feedback from my clients. When you work with cancer patients it changes your perspective, you are able to see the bigger picture and what's really important."

Also having an affiliation with the American Cancer Society, Ann is certified to facilitate the "Look Good Feel Better" program which supports women as their skin changes during cancer treatments. Ann is very involved with the community, and also volunteers weekly with Ironwood Cancer and Research Center in the Phoenix area.

Ann's passion for Aesthetics developed when she realized she wanted to help people through Conscious Touch. Developed by KC Miller, Conscious Touch is unique to Southwest Institute of Natural Aesthetics, and takes into consideration that the body is made of physical, mental, spiritual and energetic bodies. It is based on the belief that the face is one of the powerful holograms of the physical body and that by ministering to the facial structure one can affect the all of the bodies – thus creating Mind-Body-Spirit relaxation and rejuvenation. Conscious Touch is designed to teach students to be an Instrument in the Peace and Healing of others. "My nature is to mother everyone. I have been a caretaker and nurturer my entire life. I want to take care of the whole world."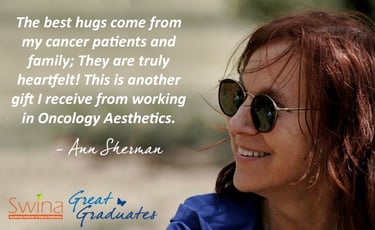 Through Mindful Skin Spa, Ann is able to fulfill her passion to care for others by not only improving her client's skin but by also providing them with relaxation and a place where clients can have some peace of mind. One story that truly exemplifies Ann's ability to help others occurred when a young woman came in to see Ann with her mother. The patient was around 25 years old and had found a lump while she was pregnant. "She removed her wig because I have a glass head where my patients can rest their wigs before lying on the table. As I was cleansing her face I also made sure to wash and massage her scalp. This stimulates the hair follicles, increases blood flow, and also promotes hair growth. During this, she was sharing with me that so many of her friends and family didn't know how to react to her cancer and that she felt isolated. After massaging her head, I applied a natural fruit acid enzyme and then I did a foot massage while applying steam t o help penetrate the enzyme. During the foot massage the young woman started to cry as she told me that was the first time she felt relaxed enough to almost forget about the months of treatment and all of the fear surrounding her diagnosis. The best hugs come from my cancer patients and family; They are truly heartfelt! This is another gift I receive from working in Oncology Aesthetics."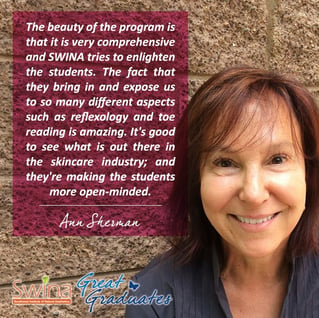 Ann was able to succeed in opening her own spa by incorporating techniques learned at SWINA as well as having the dedication and passion to educate and care for others. To learn more about what our programs have to offer you, please contact us at (480) 393-1415.

Stay in Touch with Ann through her website: MindfulSkinSpa.com!

Ann learned the power of touch when working at a hospice, and was later taught the Conscious Touch Protocol at SWINA. "The beauty of the program is that it is very comprehensive and SWINA tries to enlighten the students. The fact that they bring in and expose us to so many different aspects such as Reflexology and Toe Reading is amazing. It's good to see what is out there in the skincare industry; and they're making the students more open-minded."