Autumn Grijalva started her path to Southwest Institute of Natural Aesthetics (SWINA) in the Healing Pages Bookstore on the SWIHA campus seven years ago. She started as the Bookstore Manager, specializing in purchasing and operations, yet was not totally familiar with Southwest Institute of Healing Arts or what it offered and represented. After accepting the position, it became clear very quickly that SWIHA was a unique environment, unlike anything she had experienced in her career thus far. Due to her outstanding leadership skills, Autumn was transferred to SWINA to become the Director of Student Operations – and now, just a few years later, she has the exciting opportunity to serve as Campus Director.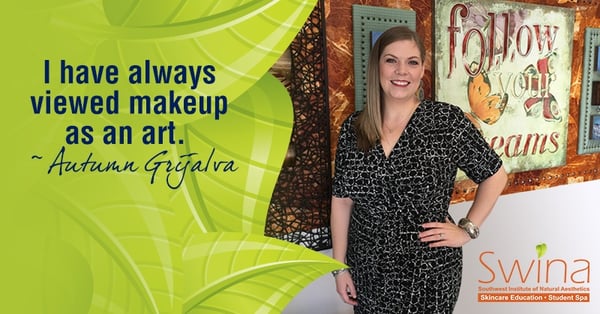 As soon as she started working at SWINA, she knew that her dream of becoming an aesthetician would finally become a reality. Autumn shared with us that she developed a passion for makeup at a young age and reflected, "I would look at my Kevin Aqucoin makeup books for hours on end. For fun on the weekends, I would recreate Kevin Aqucoin's makeup looks and have my mom take before and after photos. I have always viewed makeup as an art, and I love to see how makeup can transform into a beautiful masterpiece!" With the support of her husband and son, she embarked in the 600-hour Natural Aesthetics Practitioner evening program. It was within the 'White Block' -- the first 224-hour foundational class -- where Autumn discovered her passion for skin physiology and facials.
Autumn also took the Life Coaching program at SWIHA where she learned that coaching is an ongoing partnership that helps people produce fulfilling results in their personal, professional, and spiritual lives. Autumn feels that this was a turning point in her professional development: "Life coaching gave me the tools to make a positive difference in people's lives!" Having started her professional life in a competitive corporate environment after graduating from Kansas State University, and combining her degree with a new set of skills learned in life coaching, she felt confident and more than prepared to accept the position of Campus Director of SWINA.
As a SWINA graduate, Autumn knows first-hand what the students go through. "I believe in SWINA, and I believe in our students. I am here to support them in following their dreams of being successful in the aesthetics industry."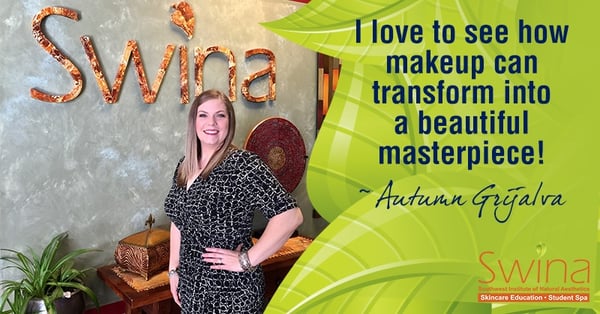 When asked what her best advice for people entering the beauty or service industry, Autumn replied that this is what she tells graduates: "With the education you receive at SWINA, you will have the tools to empower your clients to feel beautiful both inside and out, as long as you remember the words of Walt Disney." With a twinkle in her eyes she shares the words of the late magic maker –"All our dreams can come true if we have the courage to pursue them."
If you are passionate about skincare and are interested in becoming a student at SWINA, call Cait Crooks, one of our fabulous Admissions Coaches! Or, stay curious and check out our blogs on the SWINA website: where Caring Is Natural!