It is easy for me to suggest a creative jump into makeup artistry, because I enjoy it and do it. However, last year sometime, I posted a picture of me fanning seven of my licenses from different states, and in looking at it a couple days later, I noticed something: my hair was the exact same, boring style over a twenty-plus period. So I get it. Bad haircut months are way worse than bad makeup days for the obvious—makeup can be removed immediately or after eight hours. So let's take a look at what showed up on the runway from this year's Fashion Week!1
The Trends
All done in a black, liquid liner, the models wore modern and graphic strokes, not anything like we have seen before in civilians. Be the first!

Experience light-reflecting, color glitter and sequins! Apply to the inner or outer corner of the eye, over eyeliner, or under eyebrows.

Fluorescent Eyes and Lips
Say hello to the 1980! Unfortunately, a few of that decade's styles have resurfaced. (oh why, oh why???) Accent lips or lashes with a pop of color or use electric eyeshadow as an eyeliner.

Don't worry too much Twilight-fans, vampires aren't going nowhere. A truly seductive and intense look with the powerful, black-burgundy lip.

You may have never considered it, but gloss doesn't have to stay localized to the lips: eye lids and cheekbones are game, too.

As a 1980's makeup wearer, I'm struggling with this one, but this is just good journalism. If they're doing it in NYC on the runway at Fashion Week, it's my duty to share! Go blue, ya'll. There are all sorts of shades, so pick the one you like most or mix it up!

Need Pointers?
If you do not have a lot of makeup 'experimenting experience', do not worry! If your makeup hasn't changed since the 1970's, do not worry. If you think you are the least creative person out there and could never try this kind of thing, well, that's a thought, and consider this:
Imagine if, you have a talent or joy for creative expression nestled within you, and you just don't know it?
What if you have a talent for doing this for others? Sometimes we get creative ideas that don't necessarily resonate with or for us, but they could for your clients. However, if you are ready to play around with these makeup trends this holiday season and into the new year, keep these things in mind!
Your Audience- Who will be around you? Do you want to blend in or stand out?
Your Clothes- What are you wearing and will the two looks blend or be too much?
Your Accessories- If you tend to wear a lot of bling, you will overwhelm your look with glitter, liner, and gloss. Perhaps pick only one with a high-flair outfit.
Your Plans- Out until 4 am dancing is very different than a two-hour dinner. Sweat, heat, cold, movement will all affect how your make up stays, or doesn't stay. If it's a new look and you don't know, go for it on a short dinner. If you know you love a look at it's a high impact evening of dinner, dancing, and after-hours party, pre-plan by buying a waterproof liner or lip stain. ALWAYS bring your makeup with you for touch ups through the evening.
Your Hair- It's right by your face, girl. Big hair does not need electric blue eye makeup and glitter liner and a dark lip. Know how to choose.
The Entire Look:
Outfit
Hair
Makeup
Accessories
Shoes
I know many men laugh at our need to take an hour or two to get ready before going out. Ha ha, yet if you want your look to be talked about in a positive way, you must consider the whole five, bang, and caboodle. Today we discussed makeup. Relax, tomorrow is another day!
Be YOUR version of Beautiful!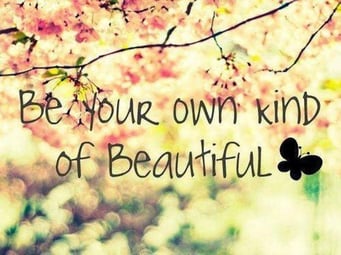 Discover how you can be your own kind of beautiful and helps others find their beautiful too with a career in Natural Aesthetics.
1 Referenced and pictures from online Vogue Magazine.