Need a guilt-free holiday gift idea for YOU? Let it be taking better care of your skin. This can be upgrading one or more beauty products to an organic brand you have been eyeing, a budget for three months of facials or body treatments (great price when you book with a SWINA student), or committing to washing your face every morning and night. Our skin is an organ, and it supports the body's natural detoxing process by eliminating toxins through the pores: it deserves our support, time, and love! Try out some of the following ideas, and fall in love with your skin all over again!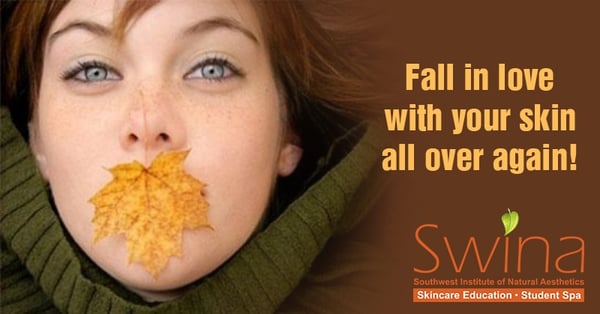 Brush It Out: For a deeper cleaning, electric cleansing brushes can get stubborn oil and dirt out of the skin. Research product reviews for your bristle options, as there are many, to be sure you buy the one best suited for you.
The Chem-Peel: If you're a DIY person, you can find gel peels for sensitive skin, or "Level 1". They might cost around $30, but they'll last you for months, or see if you have a friend or friends, who will throw in with you. Take your time moving up the "Level Ladder" for more dramatic results, and perhaps under the care of your dermatologist.
SpaSWINA POW: Did you know at Southwest Institute of Natural Aesthetics (SWINA), we have a mailing list for our beauty Product of the Week? Find out about our sales on products like Rhonda Allison, Hylunia, EltaMD by signing up for our POW emails, or check out the blog for more trends and tricks of the trade!
Can the Chemical Crap: The more inexpensive skincare products tend to use chemically altered ingredients and additives, which is irritating and drying to the skin and creates more work for your other organs to flush out. If cost is a factor to you when it comes to organic beauty products, yet you really value your face, then take a look at your budget and see where a lot of your money goes that isn't essential to your survival. If you go out to eat quite a bit, then forgo a few of those meals, and put the money towards your new, organic face cream.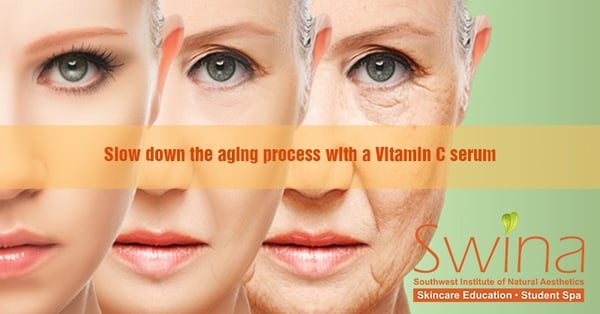 Milk, Bubbles, & Oinks? There was a major Korean beauty trend this past summer featuring carbonated bubble clay masks, and just like it sounds, when it gets on the skin it begins to bubble. The milky texture is moisturizing; the clay tightens the skin; Elizavecca Milky Piggy Carbonated Bubble Clay Mask* contains charcoal to pull out impurities; and the carbonation gets deeper into the pores for a more penetrating cleaning.
Dry-Drama Queen: Many people with dry skin have dullness. Two options to get a dewier look, is to use a crème blush, or stick with a powder and then apply a light layer of coconut oil over it. The coconut oil prevents water loss and its natural fatty acids are native to human skin, so it assists in replacing the skin's natural oils. Read another SWINA blog, Coconut Synergy, for great info on the benefits of coconut.
Vitamin "See": So many women and men battle dark circles under the eyes, either naturally or due to being overworked and under-slept. Try a topical Vitamin-C serum, like Hylunia's Beyond Complex C Anti-Aging Seum, which we carry at SPA SWINA. When used as an eye cream, it has been shown to engage capillary repair and constrict blood vessels which makes the darker shade less noticeable. Another piece of advice is to use circular motions when applying to stimulate stagnant blood flow.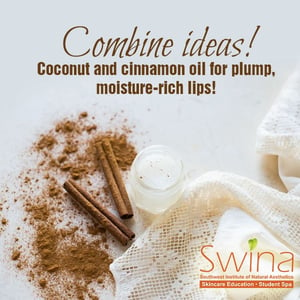 Cinnamon Kisses: Adding a touch of cinnamon to your lip balm or gloss is a natural way to keep lips plump. Using a cinnamon essential oil increases blood flow and will temporarily turn out the lips for a fuller look. It can be a bit spicy, depending on the brand, so gauge lightly until you get the results you want.
Cleaner by the Sink: If you tend to get home, either late or exhausted, often you forget to wash your face or get to bed too tired to get back up. Two possible solutions: leave your face cleanser by the kitchen sink where you might head first, or leave facial wipes by the bed. While dirt and makeup removal wipes aren't optimal in cleaning efficiency, it is still better than nothing at all.
Primer Premier: If you wear eye makeup, then you know the frustration of the mid-day look, where color and sharpness is gone. There is a product called primer which will really help the skin grip onto the makeup and last hours longer. There are both foundation and shadow primer available.
Cool Coverups: If you suffer from redness or rosacea, avoid luminizing foundations or tinted moisturizers. Stick to a putty-like formula: the more matte it is, the better the foundation will conceal. For acne, apply an eyeshadow primer first, then the concealer, then your foundation. The primer will help the makeup products stay in place and conceal.
Do Down Dogs: Practice facial fitness and get the blood to your face through yoga! This will keep your skin glowing, while aligning your chakras, stretching the hamstrings, realigning the abdominal organs, and opening the shoulders. Any pose that increases blood circulation to the face can help you gain or maintain a natural glow (or forward fold, handstands, forearm stand, etc). Incorporate the Ujjayi breathing technique, three-part breath, or slow belly breathing for optimal detoxing and tension release.
Skincare is an involved practice, and it takes time to establish healthy habits and routines. Incorporating holistic nutrition is one of the most beneficial ways to keep younger looking skin. Everyone's protocol is different, so there is a little trial-and-error involved. Take the time to speak with a natural Skincare Pracitioner or a Holistic Nutrition Coach who will know how to help you pick the best products and diet for your skin type. A career in aesthetics may be for you, if you enjoy helping others and understanding the intricate processes of skin care. Experience SWINA for your educational journey, where caring is natural!
* SWIHA has no affiliation with this company. Ingredients are up to the user's discretion.